The Lady Chapel
The Lady Chapel occupies the south transept. and houses a small altar and tabernacle. Worship is sometimes held in the chapel during the week.
---

1. Nave
2. Chancel
3. Sanctuary
4. East Window
5. North Transept
6. South Transept
---
The Lady Chapel

Originally this space housed the organ manual, and was where the choir robed before services. In 1980 the organ manual was moved into the choir and the bell manual was relocated to make room for the creation of the Lady Chapel in memory of Desmond Pacey by his wife, Mary.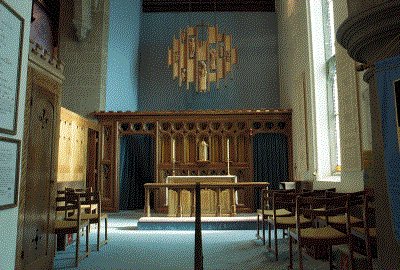 The Chapel from the Steps
---
| | |
| --- | --- |
| | The Hooper Carving - The hanging sculpture above the butternut screen and altar is the work of John Hooper of Hampton. Made of butternut, mahogany and pine, the figures in the carving all represent the Church. The Blessed Virgin and infant Jesus, trumpeting angels, a scholar, and a girl in jeans are among the various figures. |
---
| | |
| --- | --- |
| | The Chapel Reredos - Behind the altar, the reredos holds the Tabernacle. This golden vessel serves as a receptacle for eucharistic elements. |
---
The Choir vestry is located immediately behind the chapel, where the choir prepares before worship services.
The kneelers and the hangings in the chapel were made by congregation members.
Up above the arch at the entrance to the chapel is the Echo Organ, which is separated from the rest of the Organ in the north transept.
A Cathedral Fact... - Who is buried here?
Many visitors believe that Bishop Medley lies inside the Cathedral beneath his marble effigy, but his remains are laid in the church yard under the East Window. Former Lieutenant Governor George Stracey Smyth is the only person buried in the Cathedral's crypt, as his remains had been placed in the Old Christ's Church which was demolished after the construction of the Cathedral. The burial plaque of Lt. Gov. Smyth may be found on the south wall of Lady Chapel.
---