Chancel & Bell Tower
Situated under the tower, the choir contains the Organ Console, Choir stalls, and the Dean and Vicar's stalls.
---

1. Nave
2. Chancel
3. Sanctuary
4. East Window
5. North Transept
6. South Transept
---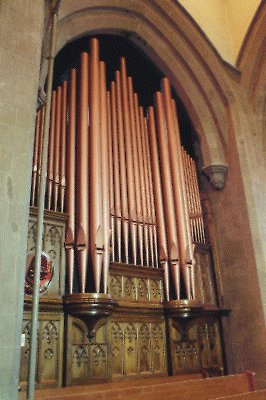 Choir Stalls
Refinished in 1911 after the fire which gutted the tower and chancel and destroyed the Butterfield woodwork, the woodwork in this part of the cathedral is remarkably different than the rest of the church.
The south choir stalls sit in front of the massive organ console. This photo shows the frontice for the organ which fills the arch into the North Transept, directly across from the console. These towering organ pipes hide the main organ works located directly behind the north choir stalls. Other organ pipes are visible on the corner wall of the Nave facing the congregation.
Vicar's Stall
Above the Vicar's stall is the Canterbury Cross, given by Canterbury Cathedral to all Anglican Cathedrals as a sign of the unity of the Anglican Communion. It is wrought in iron and set upon limestone from Canterbury Cathedral.

Bell Tower
Above the chancel is the clock and bell tower which comprises the Spire and the tower itself. The ceiling which supports the clock and bell room in the tower was painted after a design from Malvern Abbey. At the top of the eastern arch is the clock, built by Dent of London, it was installed in 1854 by the same clockmaster who supervised the same process for Big Ben in Westminster.

Orginally, there were 8 bells in the tower but, after the fire, Sir James Dunn replaced the 8 melted bells and donated 7 more for a total of 15. They are played on the bell manual, and they also chime as part of the clock on the quarter hour. The tower was rebuilt after the fire from the original height of 178 feet to the intended height of 198 feet.


Ceiling Under the Tower in the Chancel.