The East Window
The great East Window is one of the most recognizable features of the Cathedral. Looming over the sanctuary, yet visible from far back in the nave, its intricate stained glass images bring light and life into the entire building.
---

1. Nave
2. Chancel
3. Sanctuary
4. East Window
5. North Transept
6. South Transept
---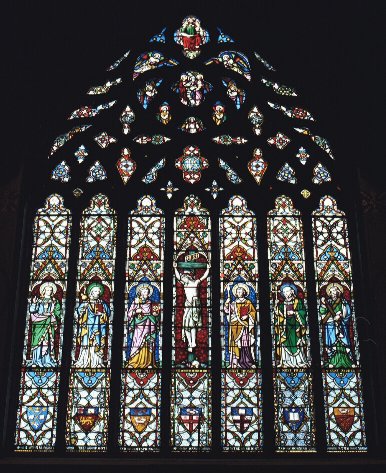 The East Window
---
The East Window

Above the reredos and high altar in the sanctuary, the East Window contains seven panels. Three apostles stand on either side of the center pane containing Christ on the Cross. Within the seven panels are the arms of the seven dioceses in existence at the time of its creation. At the top of the window is Christ the King.

The window was designed by Mr. Wailes and the tracery is a reproduction of the seven paneled window at Selby Abbey. It was donated by Trinity Church, Wallstreet, New York.

A Cathedral Fact... - A well known image.

If the East Window seems familiar, look again. The central image of the crucified Lord features in the header on every page of this website.