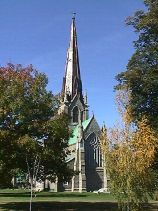 The Tower and East Window
Entering the West Door of the Cathedral, visitors are at once transformed by the reverant elegance of a magnificant house of worship in Revived Gothic style. Excited voices instinctively drop to hushed whispers.A spacious nave of carved stone and stained glass extends towards the decorated High Altar. Here, the early morning sun strikes the great East Window, setting it ablaze in glowing color. From its gleaming panes, the crucified Lord and six apostles oversee the sanctuary.

Welcome to Christ Church Cathedral.

Take an online tour of this historic building. Click on the images or the floorplan to learn more about its history and its contents. Then come back and join us for worship next Sunday. We're expecting you!